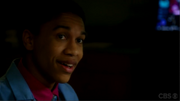 Wendell Hobbs was the forensic scientist for the Jefferson Country Parish/ NCIS New Orleans Field Office introduced in the backdoor episode Crescent City Part II. He plays the keyboard to relax, indicating his quirks. Hobbs however did not appear appear in the actual Season One episodes, and has been replaced by also quirky Sebastian Lund. It was not exactly explained why Hobbs left or disappeared.
Hobbs is portrayed by Aaron Moten
Ad blocker interference detected!
Wikia is a free-to-use site that makes money from advertising. We have a modified experience for viewers using ad blockers

Wikia is not accessible if you've made further modifications. Remove the custom ad blocker rule(s) and the page will load as expected.