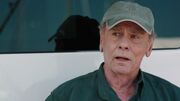 Tom Hamilton is a retired NOPD officer and the father of Councilman Douglas Hamilton. He is nick-named "T-Bone" and used to hang out with the Confederate Brigade, a " a bastard offshoot of the KKK". Tom's height is five foot, seven inches and thus Dwayne Pride nearly arrested him as the murderer of Chief Petty Officer Jacob Tarlow in the episode Chasing Ghosts.
Tom Hamilton is portrayed by actor Dean Stockwell, who was a co-actor with Scott Bakula in the CBS series, Quantum Leap. Stockwell was also previous part of the "NCIS-universe", acting as Secretary of the Navy Edward Sheffield.
Ad blocker interference detected!
Wikia is a free-to-use site that makes money from advertising. We have a modified experience for viewers using ad blockers

Wikia is not accessible if you've made further modifications. Remove the custom ad blocker rule(s) and the page will load as expected.