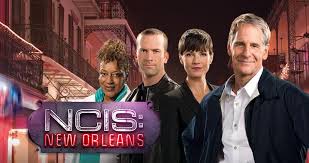 Welcome to the official NCIS: New Orleans Wikia.
NCIS: New Orleans is an American television series combining elements of the military drama and police procedural genres that airs on Tuesday nights at 9 p.m. ET on CBS. It premiered on September 23, 2014, as part of the 2014–15 television season, following the once-hit series NCIS.
The pilot was written by Gary Glasberg. The series' executive producers are Glasberg, Mark Harmon, Jeffrey Lieber, and James Hayman. The series is set and filmed in New Orleans.
Led by Agent Dwayne Pride, the New Orleans office of NCIS handles cases from the Mississippi River to the Texas Panhandle. Special Agent Chris Lasalle and his partner Special Agent Meredith Brody originally from the Great Lakes Office, work with Pride to ensure the safety of the once hurricane stricken Crescent City.
NCIS: New Orleans is the second spin-off from NCIS and also is loosely connected to JAG, which the main NCIS was a spin-off from.
Ad blocker interference detected!
Wikia is a free-to-use site that makes money from advertising. We have a modified experience for viewers using ad blockers

Wikia is not accessible if you've made further modifications. Remove the custom ad blocker rule(s) and the page will load as expected.