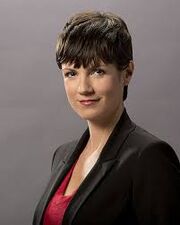 Meredith 'Merri' Brody is an NCIS Special Agent and the newest member of the NCIS New Orleans field office led by Dwayne Cassius Pride.
Biography
Edit
Prior to joining the NCIS: New Orleans team, Brody originally served as the NCIS Special Agent Afloat on board the USS Moultrie. During her time on that ship, she confronted a terrorist armed with a IED but failed to immediately stop him from setting off the device. Brody was also a Special Agent at the NCIS Great Lake office for a number of unspecified years. She specifically requested to aid the case of the death of Congressman and former NIS Agent Dan McLane, thus encountering Agents Christopher LaSalle and Dwayne Cassius Pride. Following the case, Pride saw her abilities and asked if she wished to stay with the New Orleans Team. Brody accepted and became an official member of the NCIS New Orleans Field Office.
Unfortunately, the silly powers-that-be decided that Brody will not make an appearance in Season 3.[1]
Relationships
Edit
Leroy Gibbs
Edit
Gibbs and Brody previously worked together on a classified operation. When Dwayne Pride attempted to ask Gibbs about the operation, Gibbs replied that it was classified.
Dwayne Pride
Edit
Pride is unsure what to make of Special Agent Brody, he initially was slow to trust her especially after he finds out that she requested reassignment. Although, after becoming acquainted with Brody over breakfast and reviewing a file pertaining to Brody he was willing to give her a chance to prove herself.
By the end of the McLane case, Pride offered Brody a position in his team and she accepted.
Christopher LaSalle
Edit
LaSalle first met Brody in the NOLA office and they slowly warmed up to form an amicable working relationship.
LaSalle also helped Brody find a new place to stay in New Orleans.
In the NCIS: New Orleans episode It Happened Last Night, LaSalle attempted to acquire personal information from Brody by saying he met with a former colleague with hers who told stories. At the end of the episode, it was actually a made up story and Brody, through her interrogator skills, tricked LaSalle back.
Brody is played by Zoe McLellan who previously appeared in NCIS's parent series, JAG, (see http://jag.wikia.com/wiki/JAG_Database) as Petty Officer First Class Jennifer Coates. Coates also appeared in the NCIS backdoor pilot "Ice Queen" and "Meltdown".
In the backdoor pilot Crescent City (Part I) and Crescent City (Part II), Brody carried a Sig P228 and was left handed while in the actual NCIS: New Orleans series, Brody carries a Glock 26 and appears to be right handed which suggests that Brody may be to some extent ambidextrous. The usage of the smaller, more compact Glock 26, could also be due to Zoe's small hands compared to her male cast members.[2]
Brody has almost always been called by her last name and not her first name. In contrast, her partner Christopher LaSalle is called Chris.
Brody graduated from Michigan State University.
Brody has a black belt in Aikido.
Brody has an ex-fiance with a weird fruit salad fetish.
Brody said in The Walking Dead that she doesn't date and has "relationship issues".
Brody may or may not have a tattoo.
Brody likes cooking Kale and the dish is a family tradition at Thanksgiving.
Brody prefers to keep her personal and work lives separate.
Brody initially acquired a "short-term lease in a double in Broadmoor" but found the area too noisy. Later, she found an apartment to stay near the Madi Gras route. She found the rent cheap but has not learnt that Dr. Loretta Wade is actually the landlord.
According to a conversation in Breaking Brig, Brody has moved four times in the past few years: from Cedar Rapids, to St. Paul, to Chicago to Michigan.
We know from the episode Careful What You Wish For, that Brody served on the USS Moultrie in 2007 and possibly before. This would make her at least a ten year veteran of NCIS. The episode also reveals she had a twin sister named Emily Anne Brody.
We learn in The Insider that she can speak Russian.
We learn from Olivia Brody that Brody has a father on a low salt diet, Brody's aunt is turning to be a lesbian and the family dog has learnt to eat its own poo. (See Broken Hearted).
Brody is presented as a confident Federal Agent like her counterparts Kate Todd, Ziva David, Ellie Bishop and even Kensi Blye.
Brody did not approve in meddling with Pride's relationship status unlike Patton Plame and Christopher LaSalle who tried to create a singles profile for him online.
References
Edit
↑ http://www.cbs.com/recommended/photos/1006765/new-storylines-revealed-for-cbs-series-returning-this-fall/113468/ncis-new-orleans-deals-with-a-detailed-investigation-/
Ad blocker interference detected!
Wikia is a free-to-use site that makes money from advertising. We have a modified experience for viewers using ad blockers

Wikia is not accessible if you've made further modifications. Remove the custom ad blocker rule(s) and the page will load as expected.