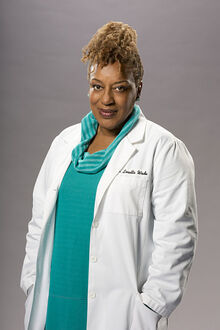 Doctor Loretta Wade is the Jefferson Parish Coroner. She can be described as eccentric and smart. Wade plays a vital role in helping the NCIS: New Orleans team by examining bodies.
Loretta is portrayed by CCH Pounder.
Unknown to Brody, Wade is actually her (Brody's) landlord for her apartment near the Mardi Gras route.
Ad blocker interference detected!
Wikia is a free-to-use site that makes money from advertising. We have a modified experience for viewers using ad blockers

Wikia is not accessible if you've made further modifications. Remove the custom ad blocker rule(s) and the page will load as expected.